Hello! I am Lina.
I have a passion for dot painting. And I am excited to share my creative process & tips to help bring out your inner dot artist!
-
In this course, I offer a step-by-step guide to achieving consistent dotting results with squeeze bottles. My original & unique approach is great for beginners and experienced painters alike.
-
Create stunning designs with unconventional painting techniques. Find your own style using acrylic paints and squeeze bottles. Learn about the tools & techniques used to create stimulating visual & tactile patterns.
This course will guide you from start to finish in creating your own finished piece.
How to choose your paint
How to recognize correct paint consistency for this technique
How to dilute/thicken paint for optimal consistency
My favorite paints and why I choose them
Tip & tricks to master the technique
Best surfaces to apply paint
How to fill your bottles
Proper hand positioning
Correcting & fixing mistakes
Sketching prep, for easy dotting
Practice worksheets provided
...and so much more!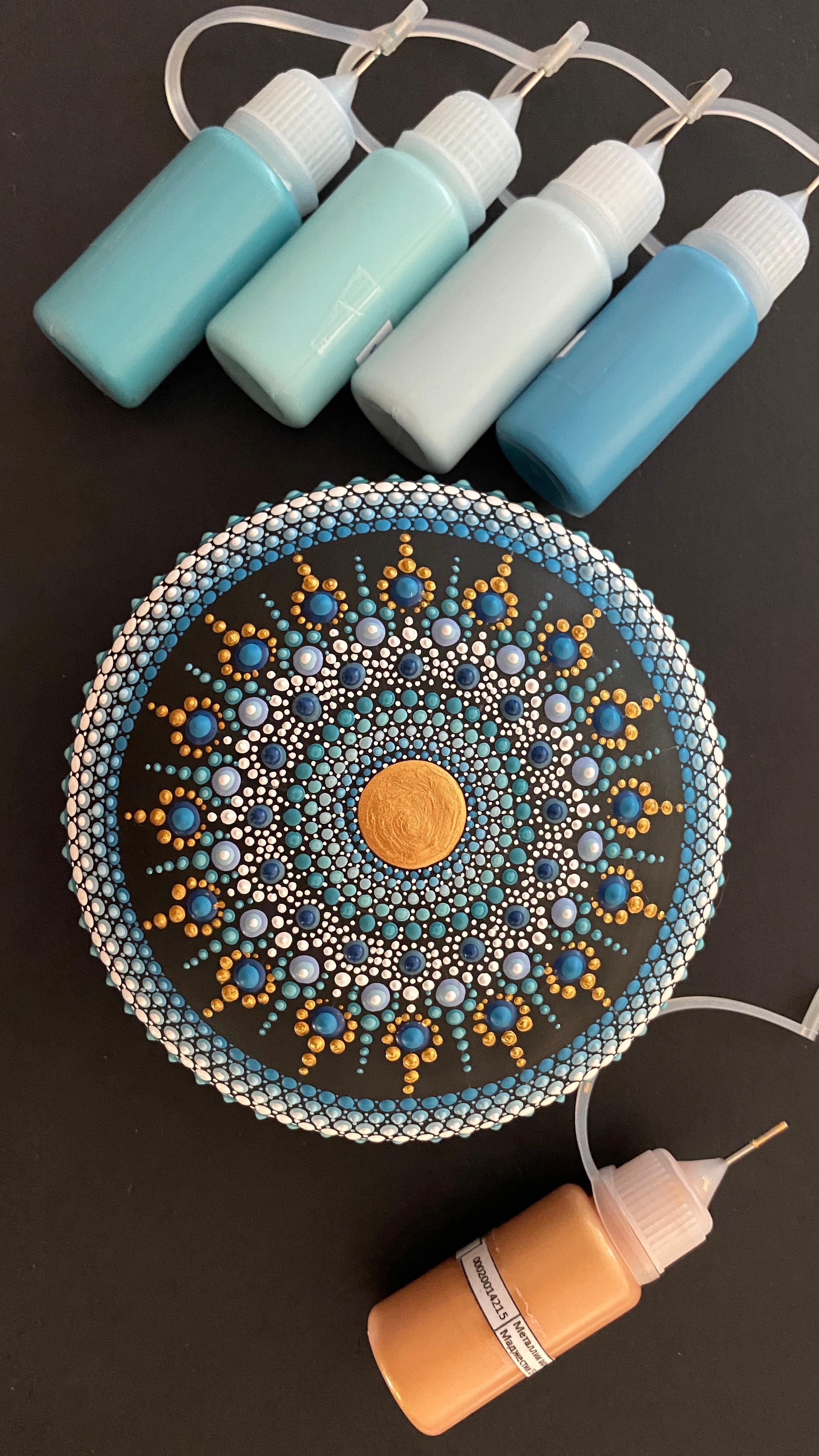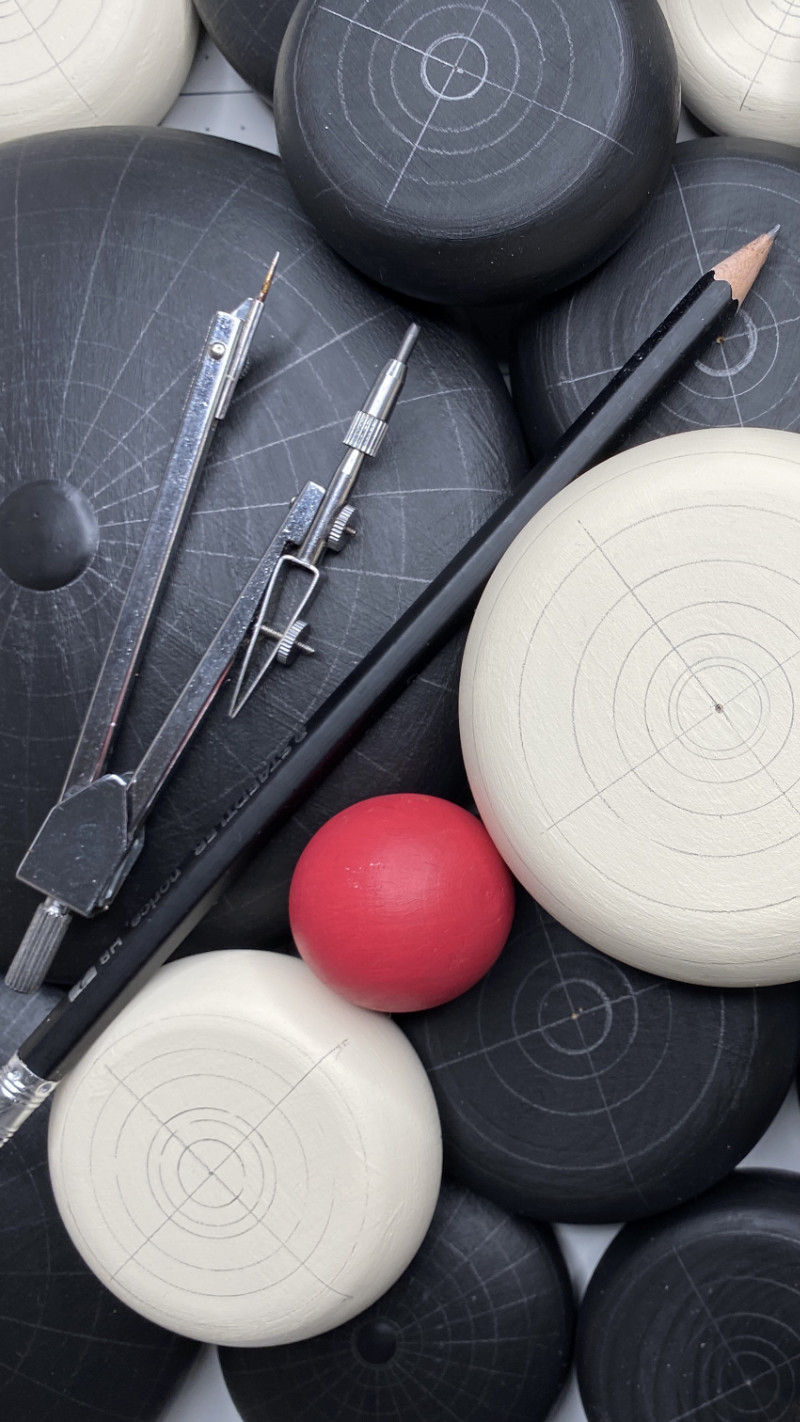 It doesn't take much to get started. Many items are common to most households.
A work surface such as:
Wooden pebble, river rock, canvas or a plate, etc.
Acrylic paints
Water in a shallow cup
Squeeze bottles
Pencil w/eraser
Ruler
Drawing compass
Don't have something? Don't sweat it!
Suggested supplies & links where to purchase are provided.
About my Artistic Journey
As a way to balance my daily life, I started painting on river rocks in 2016. It didn't take long before my hobby turned into an obsession. I found myself giving more of my free-time & energy to exploring different mediums, paints & tools. Along the way I even discovered some unconventional approaches. These new techniques didn't have much documentation. So I had to pioneer & develop my own set of tools.
Years later, I still paint every day. I look for inspiration everywhere in life. And love the freedom it brings, being open minded to the creative process.
I hope my passion for dot painting inspires others to explore their creative passions.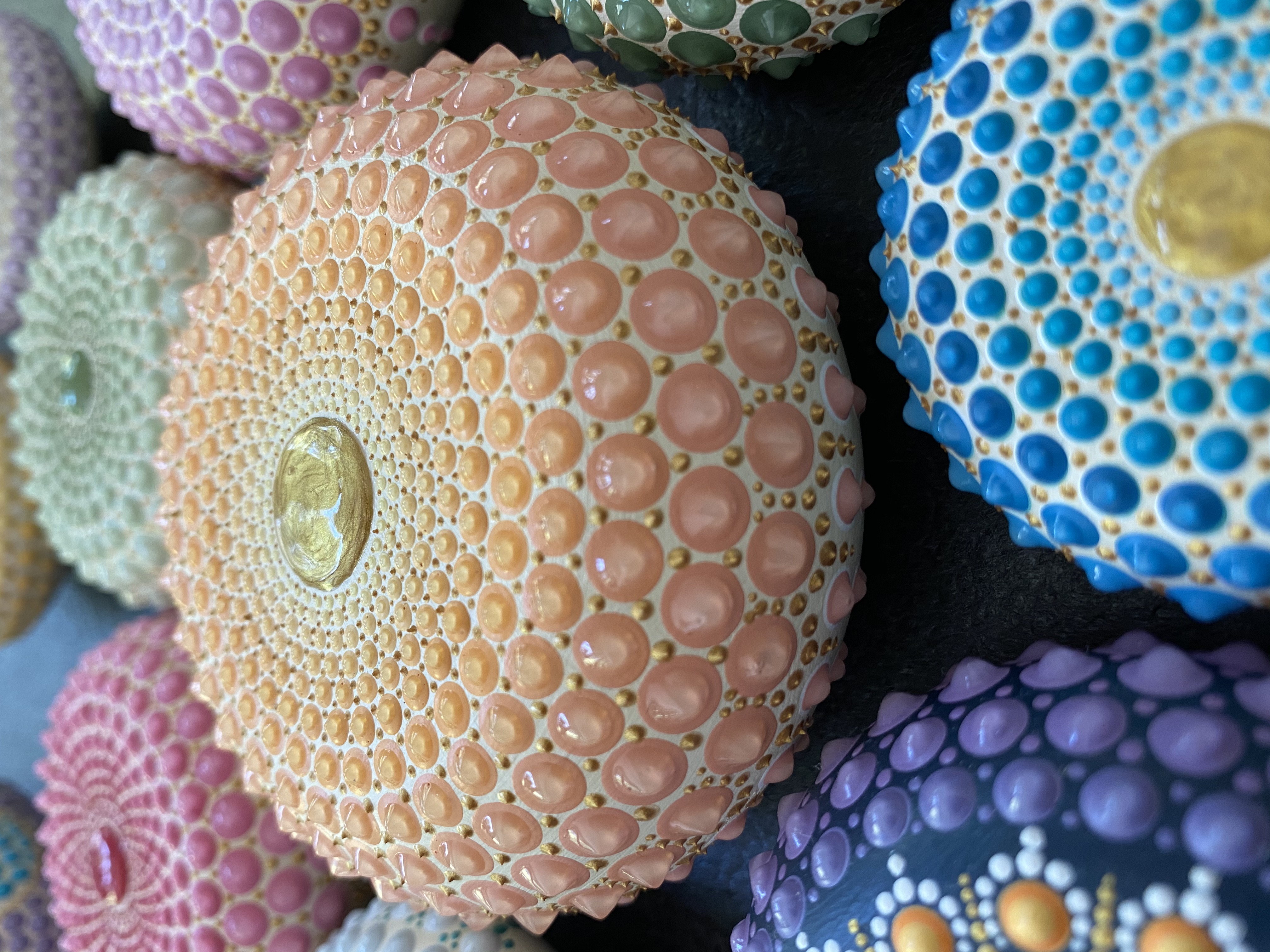 Tactile Creations
Using specialty acrylic paint is a great way to create a 3D effect that's not only pleasing to the eye, but also touch.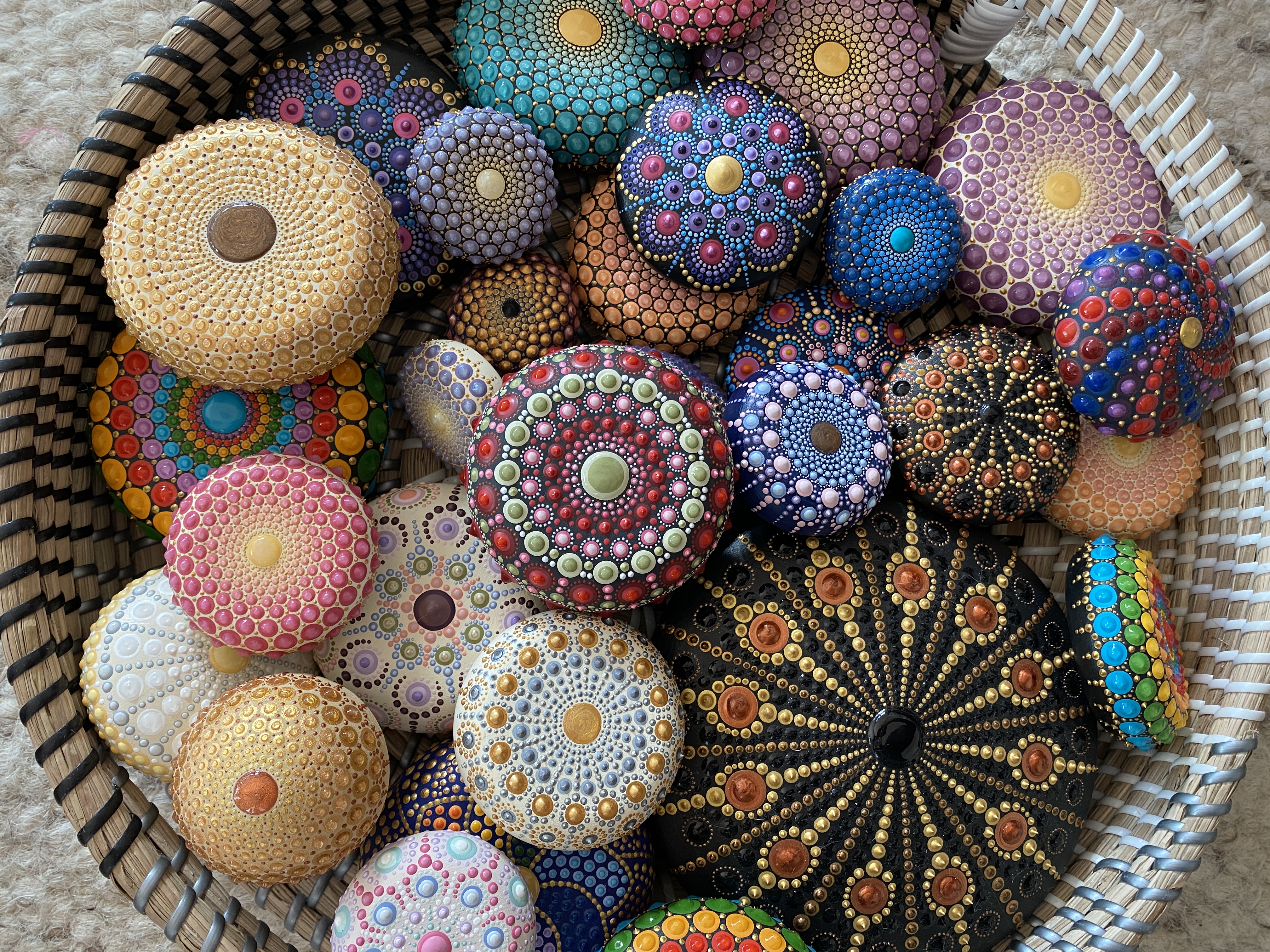 Endless Patterns
Designs and patterns come from within. Each one is an expression. There's no right or wrong.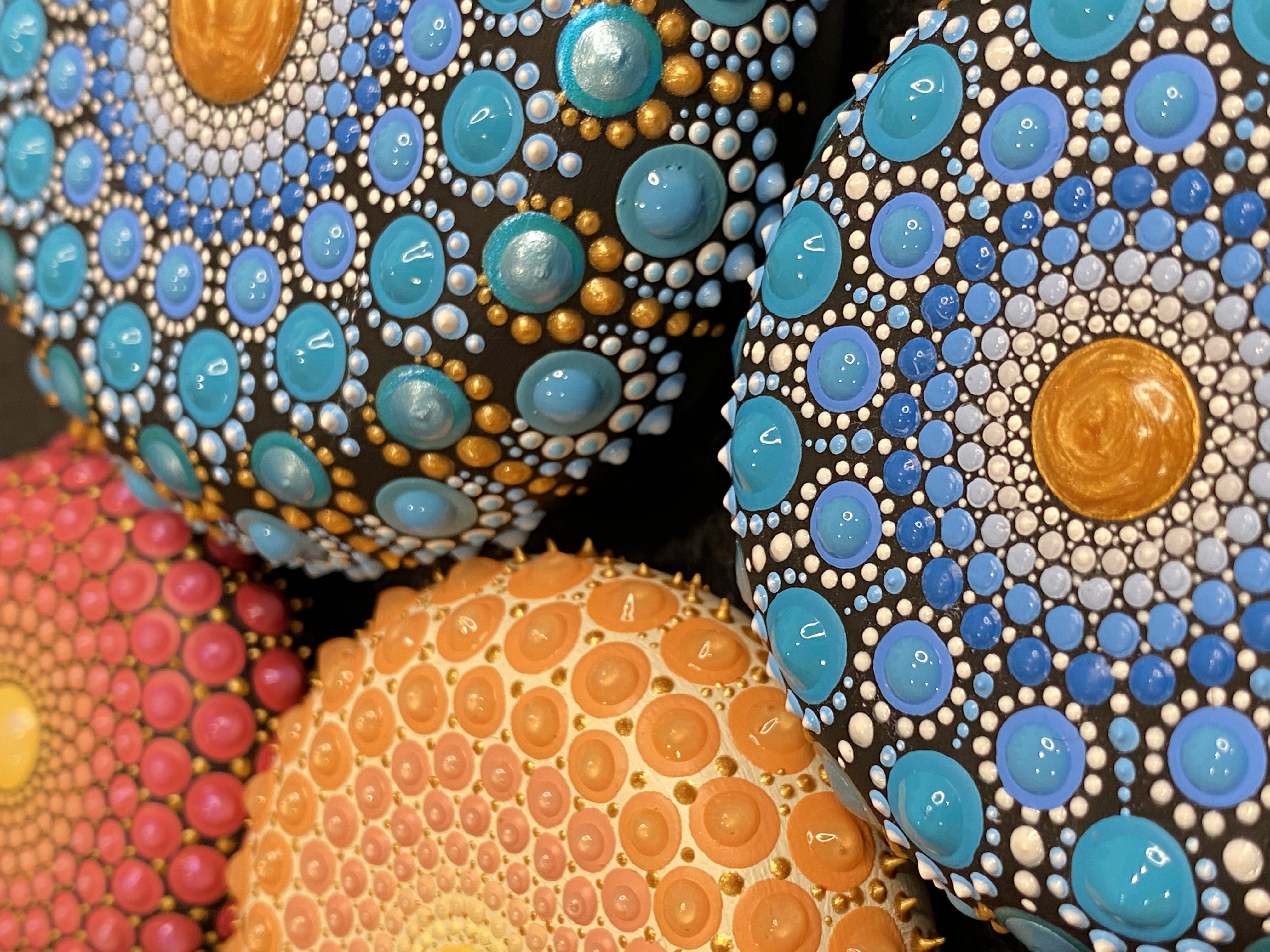 It's all in the details
From simple lines to deep complexity, the possibilities are endless when creating with dots.